7 Clothes Packing Tips to Try in 2022
Relocating to a new place involves so many small to big tasks that must be handled carefully. For example, one of the essential relocation tasks is packing your clothes. Unfortunately, the packing process is not as easy as it sounds. So, we are about to show you the best clothes packing tips that will help you smoothly and safely pack your wardrobe.
We can all agree that moving clothes is not a task many people enjoy. However, a little organization and the right techniques are all you need to perfectly pack your clothes and transfer them to the new place.
1) Use wardrobe boxes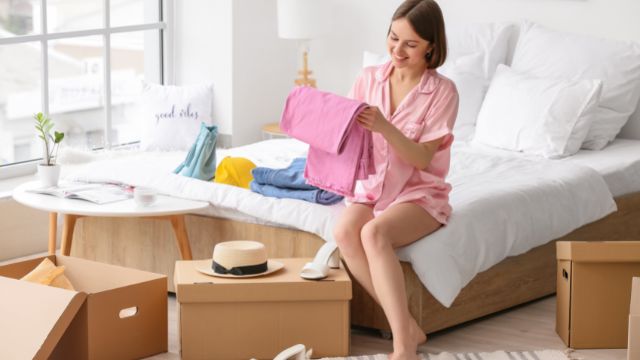 The clothes that are hanging in the wardrobe should be stored in enclosed boxes or garment racks when traveling a long distance in a moving truck.
2) Leave clothes in their drawers
The best way to pack your drawer clothes is to leave them be. In other words, leave your clothes in the dresser drawer as it is and seal the drawers and doors. Sealing them will ensure that the clothes won't come out during the transfer. 
It is one of the best techniques if you have professional movers used to moving heavy furniture. In addition, you can remove the drawers, seal them with plastic, and move them individually.
3) Wrap hanging clothes
During a local move, you can create a pile of hanging clothes onto a cart or drape over a box right on the hanger. But always remember to tie hangers together and move them in groupings of 5-15. Cover each set with sheets to protect it from dust and dirt.
4) Vacuum seal off-season clothes
If you are only packing away your off-season clothing for a short period, consider vacuum sealing to save space during the move. However, clothing requires air circulation when being kept for a long period.
5) Pack delicates and shoes separately
Never pack the delicates and shoes with clothing or else the damages will occur. During an interstate move, be careful while packing delicate fabrics like silk. Instead, pack them in tissue paper to add a layer of protection.
6) Create clothing "bundles."
The bundle is a method of packing clothes that makes it easier to move clothes in and out of boxes in an organized way. To follow this method:
Spread one large item across a flat surface, like a jacket. 

On top of this item, layer a smaller piece. 

After that, put an item more minor than that. 

Once the coat is complete, wrap it around the other clothing to create a bundle. 

Finally, toss this and other piles inside a cardboard box with the weightiest on the bottom.
7) Use small boxes for heavy clothing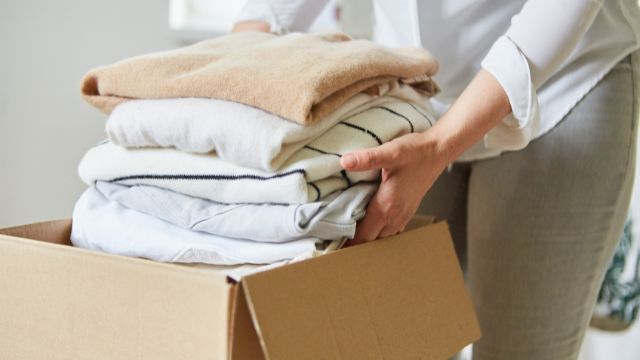 Generally, people think loading up a large cardboard box with as much clothing is an easier way of packing. However, they are wrong because clothes can get very heavy, making a move much harder on your back. So, in conclusion, use smaller boxes or totes to pack the clothes category-wise.
Final Words
We hope that the above clothes packing tips are helpful. However, if you are moving and require a professional's help, consider connecting with Mashav Relocation today!